My camera has always had the ability to line up the current image in the viewfinder with the last photo taken. In theory this allows you to stitch together all the images to create a panoramic 360 view. I say in theory, because my initial experiments with it a couple of years back were less than successful. Unless you use a tripod, the individual images always tend to be from a slightly different angle. Ultimately, I felt that the resulting image didn't warrant the effort and stop using the feature.
This past weekend, I found a particularly suitable spot on a hike and decided to give the panoramic shot another try. I ended up taking a series of 16 images:
After uploading them to my computer, I noticed that they were slightly off again. At first I figured I should be able to put them together in the Gimp, but that quickly turned into a huge nightmare of trying to manually scale and rotate each image.
Just when I was about to give up on the whole process again, I decided to see if there was a software solution for this particular issue. Turns out, there is! Hugin is an open source program available for all major platforms. After starting it up, all I had to do was to load up the series of images, and start the automated process.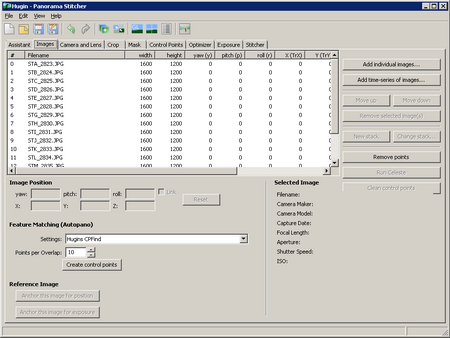 Apparently there are lots of different manual switches, but in my case the automatic wizard took care of almost everything while producing hardly any visual artifacts in the final photo:

In the end I was surprised how easy it was to create these shots, something I will have to try again soon.